It's a common theme among growing families: eventually, you reach a point where the square footage of your home is simply not enough to meet your family's needs. Fortunately, moving out is not the only option for a family that needs more space. A home addition is much less expensive than scaling up into a new home, and it can add to the value of your current property.
When you're considering expanding your space with a room addition, you'll first want to take stock of your family's needs. Are you sharing a bathroom with your growing children? Are you lacking an easily-accessible laundry room? Do you feel cramped in your common living areas and want more space for relaxation and family time? Depending on your needs, there are different areas you should focus on when planning for the construction and cost of a room addition.
Adding a bathroom is an excellent way to give your family more space (and privacy), and it provides a great return on your investment if you decide to sell later. Bathrooms are usually added to common areas or bedrooms. When looking for a place to expand, examine areas where you have enough outdoor space on the side or the back of your home to add a bathroom of your desired size. Bedrooms and living spaces at the back of your house are great places to make such room additions.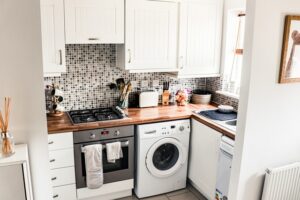 The kitchen and laundry area are other, common spaces where homeowners can begin to feel the cramp of their growing families. Attaching a laundry room to an existing kitchen or expanding the kitchen to include an eat-in area or walk-in pantry are great ways to get more space out of this crucial common area. You can make these additions by building into other, less useful interior spaces of your home or by building out into a side or backyard area.
Whatever type of addition your family is dreaming of, Creative Innovation Developers Inc. can help you expand in a way that meets your needs and stays within your budget. Reach out to us today to join our growing family of happy clients!