Architectural engineers provide important expertise on many construction projects. And though not every remodeling project needs an architectural engineer, there are some common residential construction jobs that benefit from an architectural engineer's expertise to ensure your home remains safe and sturdy for years to come.
Building an Additional Story
Adding a second or third story to your home is a significant undertaking, and to ensure the safety and structural well-being of your property, an architectural engineer will need to be involved. They will be able to provide guidance and plans so your existing home can bear the weight of building upward. They will also determine whether your existing foundation is stable enough to hold the additional weight or if you need to improve the foundation or add additional footings.
Creating an Open Floor Plan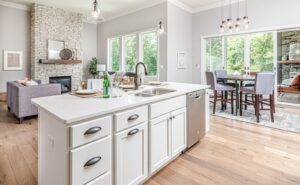 Open floor plan conversions have been quite popular for many years now. And it makes sense. These floor plans provide better flow through the home, and connect common spaces to make entertaining easier and more social.
Because open floor plan conversions almost always involve removing existing walls, involving an architectural engineer on the project is highly recommended. In fact, many cities require that architectural engineers get involved in order to determine if any walls that are removed are load-bearing walls. If they are not, it is possible an architectural engineer would not need to be further involved in the project. If the project does involve removing a load-bearing wall, an architectural engineer can devise plans for how to redistribute the load elsewhere while maintaining the airy, spacious feel of an open floor plan.
Building a Garage
Adding an attached or stand-alone garage to your property will often involve an architectural engineer because you are building a whole new structure that needs a foundation, framing, and additional structural elements that will keep it safe from environmental hazards. Architectural engineers will have the expertise you need to draft plans for a sturdy, safe garage that will stand up to earthquakes and high winds and keep your possessions safe for the life of your home.
We value the quality and safety of our construction projects at Creative Innovation Developers Inc., and that's why we  offer architectural engineering services to our clients to ensure their homes are safe, durable, and able to withstand environmental hazards common to Southern California. If you're interested in starting a project that involves an architectural engineer, give us a call today!