With the passage of new state laws in California regulating the construction and management of ADUs (Accessory Dwelling Units), many people have become more curious about these housing units. And with terms like attached, conversion, and JADU, the language around ADUs can be confusing. To help, we've developed this quick primer that covers four common terms related to ADUs.
Perhaps the most common type of ADU is a Detached ADU. This housing unit is a stand-alone building, on the same lot as but separate from a single-family home. They can be up to 1,000 square feet and include up to two bedrooms and one bath. Detached ADUs are almost always located at the rear of the property and are sometimes built above a detached garage.
Attached ADUs share at least one wall with a single-family home but have their own, separate entrance. Sometimes, attached ADUs are built out from the existing home, as a home addition. Other times, they are created by converting the existing floor plan into an ADU, as is the case with garage-to-ADU conversions. Regardless of where they are located, they have the same room restrictions as detached ADUs; they can have a maximum of two bedrooms and one bath.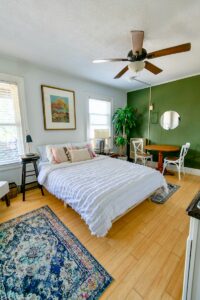 Conversion ADUs, as mentioned briefly above, can include an Attached ADU, but don't necessarily need to be attached to the home. You can, for example, convert a detached garage into an ADU, thus creating a detached ADU. Put simply, Conversion ADUs are housing units that are constructed within the existing floor plan of the home. It is important to note, though, that their size restrictions can be greater than a Detached ADU, depending on the size of your home. Up to 50% of your existing floor area can be used to build a conversion ADU.
Last and certainly smallest is the JADU, which stands for Junior Accessory Dwelling Unit. A JADU has stricter size limitations than a normal ADU. JADUs are a maximum of 500 square feet with one bedroom and one bath. Considering the size, these housing units are often studio apartments. However, like an ADU, JADUs can be attached, detached, or converted from your existing floor plan.
Are you looking to earn some passive rental income from your property? Perhaps you're considering constructing an ADU or converting existing space into one. To find out more about these popular construction projects, get in contact with our experts at Creative Innovation Developers. We have a lot of experience building ADUs in Southern California and the Los Angeles region.