For most people, a bedroom is a private escape from the world. If you're considering your next house remodeling project, a bedroom makeover can transform this important space into a lavish and comfortable getaway. In this blog post, we'll share some valuable tips for creating a dream bedroom (pun intended) during a general remodeling project. With a touch of creativity and a dash of inspiration, you can turn your bedroom into a tranquil oasis where relaxation and rejuvenation take center stage.
Masterful Color Schemes
One of the most effective ways to transform your bedroom is through a well-thought-out color scheme. When planning your general remodeling project, consider using calming and soothing colors like soft blues, muted grays, or warm pastels to create a serene ambiance. If you prefer bolder shades, use them as accents in your decor or on an accent wall. Properly chosen colors can evoke emotions and set the mood, making your bedroom a true escape.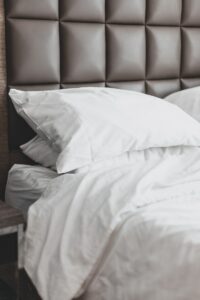 Luxurious Bedding
A key element of a dream bedroom is the bed itself. Invest in high-quality bedding, including a comfortable mattress, soft linens, and plush pillows. The right bedding can make a significant difference in your sleep quality and overall comfort. Consider layering your bed with throws and cushions to add depth and texture to your bedroom decor.
Ample Storage Solutions
A clutter-free bedroom is essential for relaxation. During your home renovation, focus on optimizing storage solutions. Built-in closets, under-bed storage, and well-organized wardrobes can help keep your bedroom tidy and serene. Custom shelving and organizers can also be tailored to your specific needs, ensuring every item has its place.
Intimate Lighting Design
Lighting plays a pivotal role in mood setting. During your general remodeling project, consider incorporating various lighting sources. Soft, ambient lighting from bedside lamps or wall sconces can create a cozy atmosphere. For added drama, you can also add a statement chandelier or pendant light as a focal point. Dimmer switches are a great addition, allowing you to adjust the lighting to your preference, whether it's for reading or setting a romantic ambiance.
A general remodeling project that focuses on your bedroom can add a dreamy, custom escape to your home. Get started on planning your bedroom remodel with Creative Innovation Developers, and we'll help you transform it into the oasis you've always dreamed of. Give us a call today for a free consultation and complimentary estimate.