The holidays are now in full swing, and though the weather might still be quite mild in Los Angeles, CA, it doesn't change the fact that Christmas, Hanukkah, and Kwanzaa are right around the corner. If you're someone who loves to get into the holiday spirit by decorating your home, we've got some tips below on how to festively festoon your kitchen and dining areas.
Kitchen Window Garland
If you've got windows in your kitchen or a common area like a living or family room, consider trimming them with garland. You can find tinsel garland in a wide variety of colors, choosing whichever color scheme matches the holiday you observe. Or, if you like the more natural look, you could drape the windows in a leafy garland. You could opt for artificial garlands to avoid the mess of fallen leaves and needles, or fresh garlands to infuse your home with holiday aromas like pine and cedar.
Kitchen Cabinet Decorations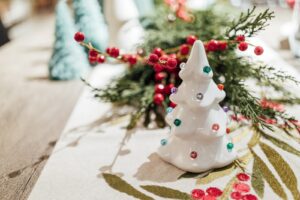 The holidays, for many, are a time of showing love and appreciation through the act of gift-giving. To evoke this sense of affection and generosity in your kitchen, consider decorating your kitchen cabinets like gifts themselves. Who wouldn't love feeling like they're opening a gift every time they have to unload the dishwasher? Cabinet drawers and doors can easily be covered in holiday-themed wrapping paper, and you could even add colorful ribbons and bows to complete the look.
Kitchen Holiday Accessories
The kitchen is an excellent place to go all out with holiday-themed accessories. From dish towels to serving platters and everywhere in between, there are plenty of ways to add holiday cheer to the heart of your home. You can also decorate the dining table with festive candles, napkins, and table runners, infusing your home with a jolly atmosphere whether you're cooking or dining.
The holidays are an excellent time to share your home with loved ones, but they can be hard on a kitchen. If you're located in Los Angeles, CA and looking to refresh the heart of your home, give us a call! At Creative Innovation Developers, we have a team of kitchen design experts who can help you bring your well-used kitchen back to life.