The farmhouse kitchen is an incredibly popular style choice that benefits from having classic design features that will look great through the years. Brought into vogue by the popular HGTV show Fixer Upper, the farmhouse kitchen exudes warmth and character and is an excellent style choice for the heart of your home. If you're looking to achieve the farmhouse kitchen look during your kitchen remodel, consider making the following material, appliance, and aesthetic decisions.
The apron-front sink is a quintessential design element in the farmhouse kitchen. These sinks come in a number of different materials with single or double basins, but if you want to go traditional, a deep, single basin, Fireclay apron-front sink is a classic that will look beautiful in any farmhouse kitchen.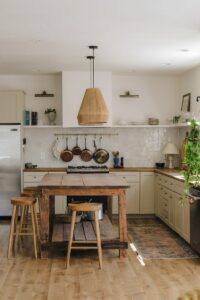 As with any kitchen style, the cabinets play a large role in the farmhouse kitchen look. Shaker is a standard style for cabinet doors and drawers, but you shouldn't feel obligated to stick with just one style. You can boost the character of your kitchen by blending different cabinet styles (say, shaker and slab) or by  adding shiplap to walls and the sides of cabinets. And, if you want to achieve some truly authentic-seeming farmhouse kitchen designs, you can add vintage pieces like an armoire for a pantry or butcher's table for an island.
While the major appliances and cabinets definitely play their part, a farmhouse kitchen can be made in the details. Accents like hardware and lighting that have rustic details will add to the cozy kitchen feel. Structural elements like exposed beams can make a brand new kitchen feel well-loved and lived in. Tie it all together with some vintage dining pieces, and you'll have a beautiful farmhouse kitchen that anyone can feel at home in!
If you're looking to achieve a beautiful farmhouse kitchen look, and you'd like a little design help, then give us a call. At Creative Innovation Developers, we have a team of kitchen design experts who can help you pick materials, finishes, and styles to get exactly the look you want at a price you can afford.