In most people's homes, the kitchen is a hot spot for cooking, gathering, and cleaning. Families put many demands on their kitchens, which is why the heart of the home needs to be supremely functional. Still, functionality doesn't have to come at the cost of aesthetics. Here are some tips for achieving a kitchen remodel that is both stylish and functional.
Be Smart about Kitchen Layout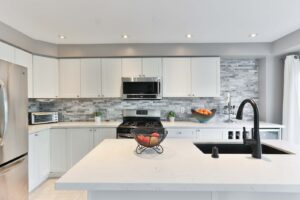 You understand the way you move through the kitchen. When planning a kitchen remodel, be sure to design a layout that complements your cooking and cleaning process. For example, placing cabinets for storing frequently used dishware near the dishwasher will make unloading a breeze.
Many kitchen designers also suggest creating a "working triangle" when determining where to place your sink, stove, and refrigerator. Ideally, they should be located at the vertices of a triangle with four to nine feet between each and no obstructions in the center. This "working triangle" allows convenient access and a smooth workflow between the kitchen's three main stations.
Choose Stylish and Functional Materials
When designing kitchens for maximum utility, there are better and worse materials to choose from. This, however, doesn't mean you have to sacrifice your sense of style or give up on a beloved material because it's not the most practical choice. On the contrary, materials decisions are, at their heart, supposed to harmonize with the demands you put on your kitchen.
For example, if you're a seasoned home chef, you probably want sturdy countertops that can handle hot cookware, are resistant to stains, and won't dent or chip easily. You might opt for a strong countertop material like quartz, which comes in loads of styles and is one of the most resilient counter materials available. However, if you love less resilient butcher block counters, you can still make them work. You might choose the material for a prep station in your kitchen and use an alternate material elsewhere, or you can seal the wood to make it more durable.
If you need help designing a kitchen that perfectly meets your needs while also looking amazing, the expert designers and contractors at Creative Innovation Developers can help. We have extensive experience doing construction on homes of all sizes. Give us a call today for a free consultation and complimentary estimate.