Southern California is renowned for its natural beauty as well as its architectural innovation. As new home construction continues to flourish throughout this region, Los Angeles remains a leader in architectural and interior design trends. In this article, we'll explore some of the interior, exterior, and architectural trends shaping new home construction in Southern California.
Indoor-Outdoor Fusion
Southern California's Mediterranean climate makes it the perfect environment to build homes that blur the lines between indoor and outdoor living. Home designs that achieve indoor-outdoor harmony feature expansive glass walls, floor-to-ceiling sliding doors, and covered outdoor spaces that extend living areas into the open air. From alfresco dining to outdoor lounges, these transitions create a harmonious connection between the interior and Los Angeles's scenic surroundings.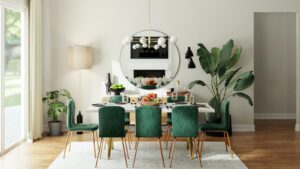 Minimalistic Modernism
Clean lines, open layouts, and minimalistic aesthetics dominate the design scene in Southern California. Contemporary homes favor neutral color palettes with bold accents in both interior and exterior design, emphasizing simplicity and functional elegance. Spacious kitchens, uncluttered living areas, and unobstructed sightlines contribute to an unpretentious and laid-back Southern California vibe.
Desert Influences
As temperatures rise, Los Angeles homebuilders and homeowners are looking to their desert cousins for inspiration in adapting living spaces to their natural surroundings. Drought-tolerant landscaping, earthy tones, natural textures, and architectural elements that blend with the dry coastal landscape are more prevalent. Builders are also focusing on creating energy-efficient homes that are well-insulated against temperature extremes.1
Multigenerational Living
As families evolve, so do home designs. Multigenerational living has long been a way of life for many Angelenos, and it's becoming increasingly popular as housing remains scarce. Designing for a multigenerational family means incorporating flexible spaces into a home's architecture so the home can adapt to a family's ever-changing needs. Multigenerational homes often feature attached guest suites, convertible offices, or ADUs (Accessory Dwelling Units), which cater to extended families or provide rental income opportunities.
The new home construction scene in Southern California is a tapestry of innovation, sustainability, and design prowess that reflects the region's values, climate, and lifestyle. As Southern California construction trends continue to evolve, Creative Innovation Developers is committed to remaining ahead of the curve. If you're looking for a design and build firm that understands LA construction and design better than anyone, give our team a call today.