With uncertainty in the housing market and rising interest rates, many people are now making the decision to remain in and update their homes. One excellent way to customize your space, boost square footage, and increase your home's value is by building a room addition. Room additions can offer an excellent return on your investment and make your home more comfortable for you and your family. In this month's blog post, we've put together a short list of room addition ideas that would work great in any Pasadena, CA home.
Sunroom Bump-Out
Pasadena, CA is known for its natural beauty. The streets are lined with mature trees and the sometimes snow-tipped peaks of the San Gabriel mountains watch over the city from the north. To maximize your enjoyment of Pasadena's beautiful, natural surroundings and its mild, year-round weather, you might consider building a sunroom bump-out addition. These transitional indoor/outdoor spaces are a seamless addition that can be styled as an extra living space, a greenery, or a covered eating area for you and your family.
Main Bedroom Ensuite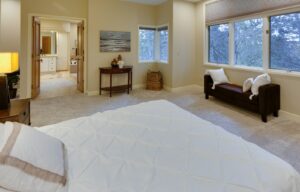 Ensuites have become almost essential features of more recently constructed homes. But because Pasadena, CA is a well-established community where 90% of the homes were built before the 2000s, ensuites can be hard to find. That's why adding an ensuite to a main bedroom can not only improve your comfort in your own home, it can also be an excellent investment. It is well-known that adding a bathroom increases the value of a home and ensuites will likely always be in demand.
Dedicated Office Space
Even though some workers have started returning to their offices, working from home and hybrid work schedules are still very popular. Many households are now in need of dedicated work spaces in their homes, so families can accommodate modern work arrangements. Completing an office room addition is a fairly low-cost project that can boost square footage and get you the quiet, secluded space you need to be productive.
At Creative Innovation Developers, we have experience building room additions of all types, from small bump outs to major construction like second story additions. If you're interested in adding on to your Pasadena, CA home, get in touch with our team. We offer complimentary consultations and estimates on your dream construction projects.