We might only be a month into the new year, but our team at Creative Innovation Developers are already getting excited about the kitchen trends we've been tracking online and among our clients. This month, we decided to focus on the centerpiece of most kitchens: the cabinetry. We've compiled a short list of the two kitchen cabinet trends of 2023 that we think really bring the wow factor to a kitchen remodel.
Slab Cabinets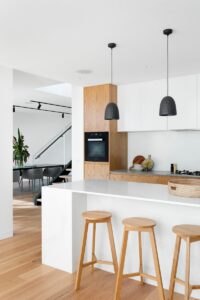 While shaker kitchen cabinets are still the most popular cabinet choice for homeowners doing a kitchen remodel, we've been seeing a noticeable rise in the popularity of slab cabinets. Instead of having an inset on the doors and drawers, slab cabinets display a flat, smooth surface with no insets or beveling.
These cabinets are perfect for homeowners who want a more modern, minimalist look in their kitchen. Plus, they're super easy to clean! Just grab a damp cloth and give them a quick wipe down, and they'll look good as new.
Wood Cabinets
Over the years, we've noticed that homeowners are increasingly opting for a more organic looking kitchen. Incorporating earthy tones in paint and backsplash choices is one popular way to achieve an organic looking kitchen. Another is choosing wood cabinetry.
While slightly more expensive than painted cabinets, wood cabinets add an undeniable majesty to any kitchen remodel. Wood cabinets add a distinctiveness that is unachievable with painted cabinets because every wood grain pattern is unique. Plus, the specific lighting in your kitchen will change the tone of your wood cabinets over time. If you want a gorgeous cabinet option that will be one-of-a-kind and that will adjust over time based on the specific conditions of your kitchen, wood cabinetry might be just the option for you.
At Creative Innovation Developers, we like to stay up to date on kitchen remodeling trends, but we also have a love for classic kitchen designs. Our delight in the new and respect for the old is one of the reasons why we're able to create the kitchens of our clients' dreams, no matter the style. When you're ready to get started on your kitchen remodel, get in touch!