Since the California legislature passed a number of ADU laws in 2020 and 2021, there's been lots of conversation about how building more ADUs might help to ease California's housing crisis. Something that is discussed less often, however, is how building more ADUs can be a sustainable construction option. In this month's blog post, we'll take a look at two ways that ADU construction can create sustainable housing options.
ADUs and Sustainable Construction
The whole process of building ADUs on properties zoned for single family housing can be much more sustainable than building brand new single family homes, duplexes, or apartment buildings. Why? Because there is typically less demolition and waste.
Because ADUs are often built as stand-alone buildings in a backyard, above a garage, or in a converted garage, there's not much that needs to be torn down to build an ADU. Plus, because ADUs add density to already existing residential properties, they do not require new land to be dug up, concretized, and built on.
ADUs and Sustainable Living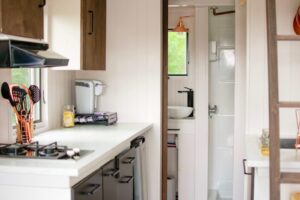 Not only are ADUs are a more sustainable option when it comes to the actual construction process, they are also more sustainable when it comes to dwelling. This is because ADUs are small; there are laws requiring specific square footage limitations for different types of ADUs.
And, as you might have learned if you've been following the Tiny House Movement, occupying smaller dwellings is an undeniably more sustainable form of living. That's because smaller homes are more efficiently insulated and require less energy to heat and cool. This also means ADUs are more sustainable in terms of budgets, too, as less energy requirements will translate to lower energy bills every month.
At Creative Innovation Developers Inc., we take pride in building ADUs for our clients. That's because we believe ADUs not only serve our clients' needs, but they also benefit the community and the environment. If you're curious about learning more about ADUs or want to get started building an ADU on your property, reach out to us! We'll provide a free consultation and estimate to jump start your ADU construction plans.