When you're planning to remodel a smaller home, every little decision matters. A small home remodel should maximize your living and storage space without making your home feel crowded. If you need advice for remodeling a small home, consider these tips from our experts.
Opt for Built-In Furniture
Built-in furniture is a great way to make use of a small space because it can be customized to fit your specific needs and provide extra storage space. Consider installing built-in bookshelves to store books and games and display art and décor. Or a built-in breakfast nook can offer a cozy place to eat and extra storage beneath the bench seats.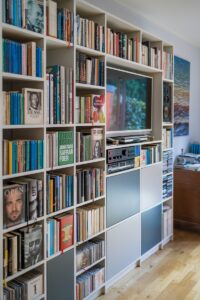 Make the Most of Storage Space
One of the biggest difficulties about living in a small home is finding space to store everything. When planning your remodel, aim to make use of empty wall space by adding shelves or cabinets. It's even become popular these days to add shelves in front of or above windows and over doorways. Using the most of wall space will help keep floor space open, making your home feel larger overall.
Open Up Your Home
If you're not adding storage to a wall, you may consider removing it to create a more spacious living area. Removing a wall to connect two rooms inevitably makes a home look and feel much larger. However, if you're not ready to remove walls, consider adding bigger windows and skylights. This can also help make a small space feel larger by bringing more of the outdoors in. Even a small décor change like hanging a mirror across from a window can improve the overall feeling of spaciousness.
Remodeling your small home can be a great way to make the most of your space and create a more comfortable living environment. If you've got a small space in need of a smart remodel, our expert designers and contractors at Creative Innovation Developers can help. We have extensive experience doing construction on homes of all sizes. Get in touch with us today for a free consultation and complimentary estimate.