When you embark on a room addition construction project, you have the unique opportunity to create a space that perfectly suits your needs and lifestyle. And what better place than Los Angeles, CA to add a California room addition? If you're not familiar with this concept, you're in the right place! In this blog post, we'll explore what a California room is and provide three creative design ideas to inspire your room addition project.
What is a California Room?
A California room, also known as a "California outdoor room," is a versatile living space that blurs the line between indoor and outdoor living. It's typically a covered, semi-enclosed area that's designed to offer a comfortable and relaxing atmosphere while still being connected to nature. California rooms are a perfect choice if you want to enjoy the sunny Californian weather year-round, without the discomfort of direct sun exposure or pesky insects.
Below are three design features that can make your California room truly special.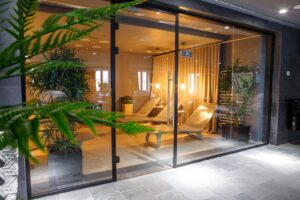 Sliding Glass Walls
To seamlessly blend your California room with the outdoors, consider installing sliding glass walls or large, retractable glass doors. These expansive openings allow you to enjoy the fresh air and outdoor views while maintaining climate control. Whether you want to feel a gentle breeze or keep the room cozy during cooler months, sliding glass walls offer a functional, modern, and elegant solution.
Outdoor Kitchen and Bar
One of the key features that make California rooms stand out is the inclusion of an outdoor kitchen and bar. With a built-in grill, sink, and counter space, you can entertain guests while preparing delicious meals in your backyard. Adding a bar area with seating can create a social hub for friends and family, making your California room the go-to spot for gatherings and relaxation.
Fireplace or Fire Pit
To extend the usability of your California room into the evening and cooler seasons, consider adding a fireplace or fire pit. This feature not only adds a warm and cozy ambiance but also serves as a focal point for your outdoor space. Gather around the fire with loved ones, toast marshmallows, or simply unwind with the soothing crackle of flames. You can choose from various designs, from rustic fire pits to sleek, modern fireplaces, to match your preferred aesthetic.
When you elevate your home with this beautiful, functional room addition, you can experience the best of indoor-outdoor living in beautiful, coastal California. And if you need help planning a California room or any other room addition, the team at Creative Innovation Developers is here to help. Schedule your consultation today and receive a complimentary estimate.