It is fairly common knowledge that expanding the square footage of your home will increase its value. But it is lesser known what types of square footage provide the biggest value boost and the best return on investment. In this article, we cover three types of room additions that can generate the biggest gains when it comes to adding onto your home.
Main Bedroom with an Ensuite
If your home doesn't already have a main bedroom with an ensuite, this room addition could offer one of the biggest returns on your investment. Ensuites add privacy and convenience for potential home buyers, which is a huge selling point. Plus, depending on your home's layout, a main bedroom with an ensuite can be a relatively inexpensive room addition. You can either add a bedroom to an existing bathroom or add a three-quarter or full bath to an existing bedroom.
Additional Bathroom
Bathrooms are also big selling points when it comes to putting your home on the market. Though they can be more costly than a simple bedroom addition due to all the plumbing, if your home has only one or two bathrooms, completing a bathroom room addition could add significant value.
If you want to do a bathroom room addition, consider creating an ensuite by attaching an additional bathroom to one of your home's bedrooms or creating an easily accessible guest bathroom in a high traffic area.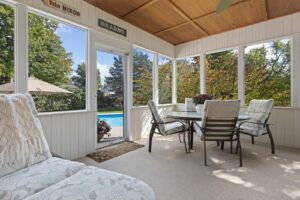 Sunroom
Sunrooms might be an unexpected addition to this list, but because of their simplicity, they have the potential to result in a considerable return on your investment. Though you can make your sunroom as complicated as you like, if you keep it simple with the framing, windows, and doors, you can add square footage and value to your home for very little cost. And if you're building in Los Angeles, California, a sunroom is basically functional all year long!
When you're ready to get started on a room addition that will add square footage and value to your home, get in touch with our experts at Creative Innovation Developers. We can help you figure out the best room addition to fit your needs, your budget, and the layout of your current space.