Over the years, we've noticed that many of our LA-based clients are interested in achieving a sustainable remodel and ensuring their construction projects are as eco-friendly as possible. We understand our customers' desire to achieve a kitchen remodel that integrates responsible and reliable materials that will last. To this end, we've developed this brief overview of sustainable kitchen materials you can consider using in your next kitchen remodel.
Eco-Friendly Cabinets
When it comes to using wood in cabinet construction, there are more and less sustainable options. Cabinet boxes (the part of the cabinet behind the drawer- or door-face) are often made of plywood or MDF (medium density fiberboard). In terms of sustainability, when considering the material for your cabinet boxes, you'll want to pick materials that have been sustainably harvested. FSC-certified boxes are a good choice, for example, as they indicate cabinets made from wood that has been responsibly grown and collected.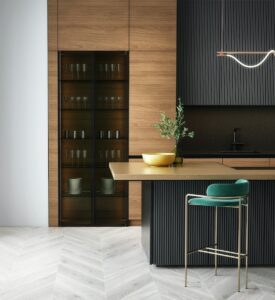 In terms of cabinet fronts, natural wood is also a good option. Bamboo is an increasingly popular and highly sustainable cabinet option because the wood can be grown very quickly. Reclaimed wood cabinets are also a popular choice for homeowners who like variation in their design style.
Recycled Countertops
Anyone who likes to spend time in the kitchen understands the demands placed on countertops. They need to be durable, stain-resistant, and capable of handling heat. Fortunately for eco-friendly homeowners, sustainably-manufactures countertops, including ones made from recycled materials, are better than ever. There are many companies that now manufacture recycled glass countertops, made of durable cement, glass, and non-toxins pigments, that can withstand spills and heat. There even exist paper countertops, made of FSC-certified recycled paper and resin, that are durable enough to withstand temperatures of 350 degrees Fahrenheit.
Low-Energy Appliances
When shopping for new appliances, be sure that you check that it is Energy Star-certified. If you're looking to replace old appliances, you might even be able to have them bought and installed—for free! Companies like Southern California Edison offer the Energy Savings Assistance Program, which helps low-income households replace old, energy-hungry appliances with new, energy-efficient ones.
At Creative Innovation Developers, we always try to stay ahead of the game when it comes to environmentally responsible construction practices, and we love taking on projects for sustainably-minded clients. If you're looking to start your next sustainable home remodel, give us a call today!